Jeff Cheah – Economic and Foreign Exchange Advisor
Jeff is a Chartered Market Technician (CMT) and Economist. His entire career has been in the capital markets industry where he has been involved in market risk and economic analysis. As a former policy maker at the Bank of Canada, he contributed to the decision-making process to ensure financial market stability in Canada. In the private sector, he often makes trading and hedging decisions, comments on market conditions, and advises clients on hedging strategies. He is currently the Risk Manager at Maple Leaf Foods Inc.
He has served as board member in the MTA Treasury Committee, the Ontario March of Dimes Investment Committee and the Canadian National Institute for the Blind Finance Committee.
Keeheum (Henry) Shin, P. Geo – Resources Advisor
Henry is the Head of Metals Department of Korea Resources Corporation. He was the Chief Operating Officer of KORES Canada since 2010, a subsidiary of Korea Resources Corporation – Korean Government Enterprise with assets over $1.5 Billion and 40 resource projects globally. Prior to 2010, Henry held several management and director positions with KORES' overseas and investment departments. Henry is a Geologist and holds a Bachelor of Geology degree from Seoul National University, Korea.
Alex Kanayev, MBA, CPA – Managing Partner
Mr. A
lex Kanayev, MBA, CPA, is Managing Partner at AIP Private Capital – a Canadian PE/VC firm, a member of CVCA and TMA. He is a Director of Capital Guardian and a Member of the Advisory Board of AIP Asset Management Inc. and sits on the board of several companies.
Previously, he worked as Senior Vice President at a hedge fund, sub-advisor to a Sprott Fund and was Portfolio Manager at BMO Financial Group. In Europe, Mr. Kanayev was an investment banker and worked for private equity groups and some of their conglomerates in Russia. He studied International Business at San Diego State, completed MBA at York University and is a CPA. In 2014, he was nominated for the Ernst & Young Entrepreneur of the Year Award.
Mike Brown, CFA – Vice President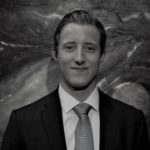 Mike brings many years of both buy and sell-side experience as well as operational. Prior to joining AIP Private Capital, he was previously employed at leading independent investment banks in Toronto, where he worked closely with Agriculture, Cannabis, Consumer, Financial Services, Healthcare and Technology companies.
Mike received a Bachelor of Business Administration degree with an honours in Finance/Economics from the University of New Brunswick and is a CFA charterholder.
Alexander Kanaev - Associate
Alexander specializes in special situations and asset based lending at AIP Private Capital. Prior to joining AIP, Alexander spent over 10 years in Automotive and Dealership Finance. Alexander holds a Bachelor's Degree in Business and Auto Finance and is working towards his CPA designation.
Andrew Ashton – Associate
Andre
w has buy-side experience in both the private and public equity markets. Prior to joining AIP, Andrew was an analyst at a Toronto-based private equity group focusing on mid-market owner managed businesses. Andrew has transactional experience in the healthcare, clean tech, software and tech enabled service sectors.
Andrew is active in the Toronto community, where he served as a judge for several case competitions and has also written numerous case studies. In addition, Andrew sits on the fundraising committee for After Breast Cancer, a Toronto based charity supporting breast cancer survivors. Andrew completed his Bachelor of Commerce at Ryerson University and is currently pursuing his CPA designation.
Travis Sun – Associate
Prior to joining AIP Private Capital, Travis was a research and business development analyst specializing in the Canadian private healthcare sector. He also has over 7 years of experience in marketing where he managed clients such as Hershey's, Labatt, Sony, and the Chinese government.
Travis graduated from University of Toronto with a Bachelor's degree in Economics and Psychology, and is currently pursuing his Chartered Financial Analyst (CFA) designation.
Stephanie Chong – Analyst
Stephanie
joined AIP Private Capital in spring 2017.  She has extensive experience in IT, Digital and Media sectors and has a background in Marketing and Public Relations. A believer of social responsibility, she serves on the Board of Directors at the United Nations Association in Canada – Toronto Branch.
Stephanie holds a Bachelor of Arts in Philosophy from York University, and a Graduate diploma in Public Relations
Serge Smolyakov – Representative in Moscow
Serge is heading AIP office in Moscow. Previously he has worked for private equity groups and family offices in Russia. He has BA in Mathematics and Computer Programming from St. Petersburg Electronics Institute.
Emad Jad – Representative in Dubai
Emad is a representative from Dubai. He previously worked in the Mergers & Acquisition (M&A) Advisory Group at American Express. He has also spent a number of years in Investment Banking (M&A) at RBC Capital Markets. Emad is a Chartered Alternative Investment Analyst (CAIA) Candidate – Level II and has a MBA from the University of Aspen.
Suresh Singh – President and CEO of Smart Autonomous Solutions
Over 26 years of experience of managing acquisitions, strategic alliances and joint ventures and has participated in raising over $40 million. Previously, he was the CEO at Icron Technologies where he increased revenue from zero to $8 Million which resulted in the stock price increasing from $0.14 to $2.59/share. Prior to that, he worked as the COO at PCS Wireless, where he grew the company from 5 employees to 120 and was pivotal in increasing stock price from $0.15 to $17.80/share.
Rav Mlait, MBA – President and CEO of Cannabix Technologies Inc.
Mr. Mlait has extensive experience in managing and raising capital for public and private companies. Mr. Mlait holds an MBA from Royal Roads University in British Columbia with a specialization in Executive Management and his BA (Economics) from Simon Fraser University and has worked with public companies listed on the TSX and TSX Venture exchange. Mr. Mlait was VP of Corporate development for knowledge-management and CRM software developer, Knexa Solutions Ltd., and financial web portal, Stockhouse Media Corporation.